How to upload and embed a PDF flipbook to WIX in 4 easy steps
This tutorial will review the easy steps involved in uploading and embedding your PDF documents as a flipbook/slide presentation or as a reflowable publication on WIX. 
You can upload any FlowPaper converted digital flipbook such as catalogs, magazines, and brochures. FlowPaper optimizes your publication by splitting it into smaller parts and reducing its complexity so that your website visitors are able to view your PDF documents as quickly and seamlessly as possible.
Preparations
Make sure you have the FlowPaper Desktop Publisher available before proceeding with this tutorial. If you are not already a customer, you can try our publishing software for free here: https://flowpaper.com/app/
1.

Sharing your publication on FlowPaper cloud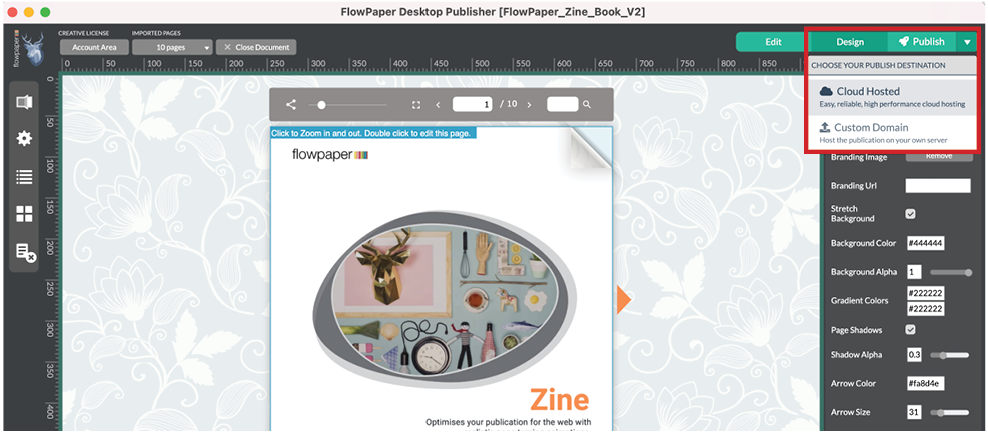 You need to upload the publication to your website or to FlowPaper cloud for the publication to be available online. This tutorial uses the FlowPaper cloud as its way of uploading the publication.  
To upload your flipbook to the FlowPaper cloud, click on the 'Publish' button in the top right corner of the desktop publisher and proceed to use the 'Share on FlowPaper Cloud' option to make your publication  available online. 
Once your digital flipbook is uploaded, the option to "Embed on Website" will appear. You can choose to use a Clickable Miniature or the for the Full Publication. Once you have selected the option you want, copy the code.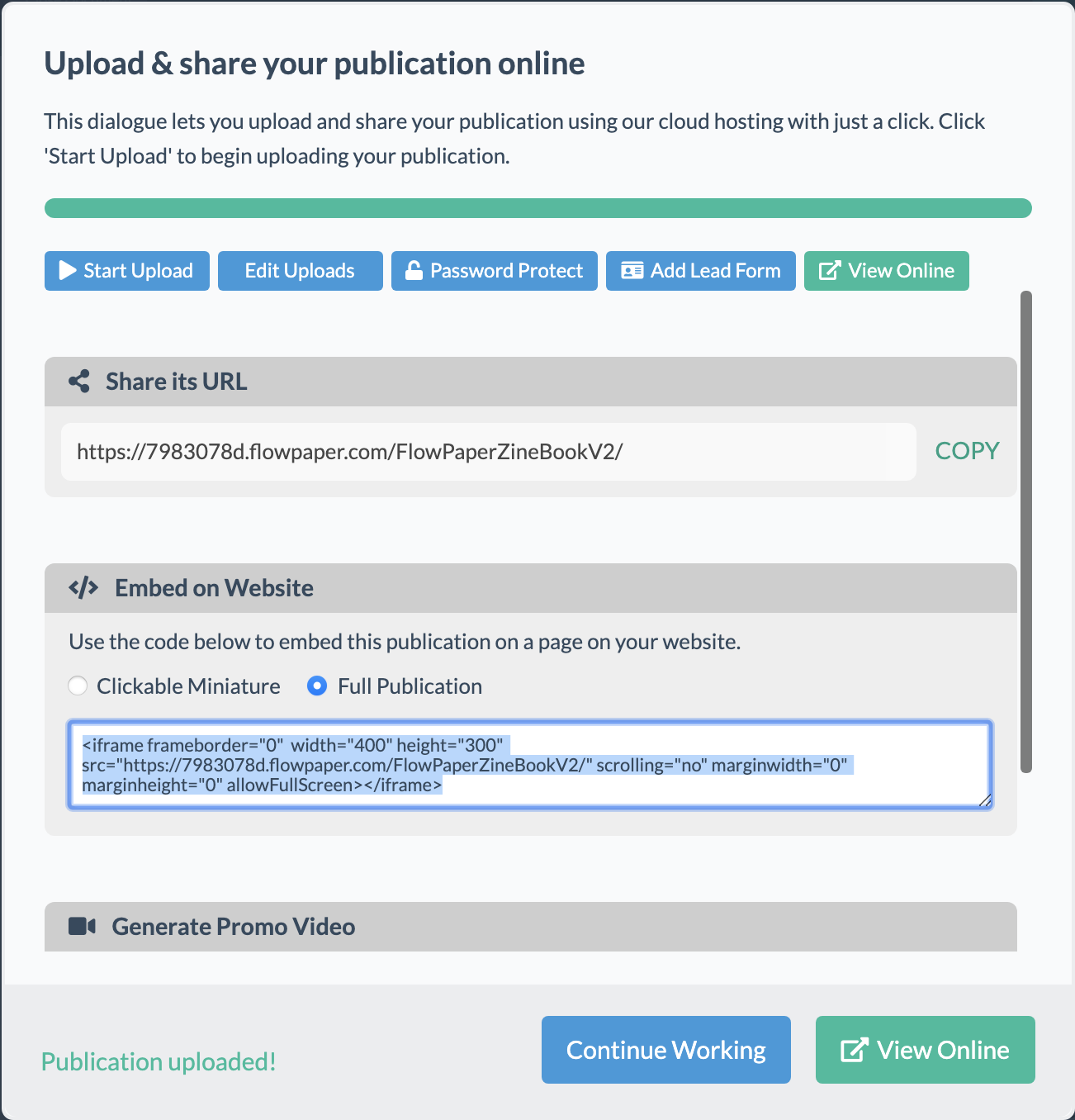 2.

Add the iframe component to your WIX website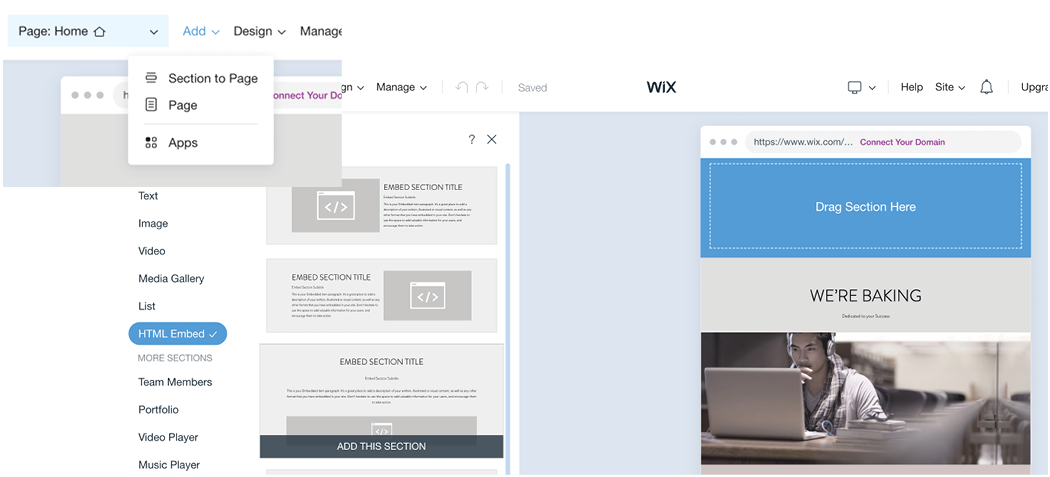 Switch over to WIX, make sure you are in edit mode and on the page that you want to add your publication. Then go to the top bar and click on "add", "Section to Page" and then "HTML Embed" as shown in the illustration above. Drag the block to where you want it on your webpage. 
3.

Embed your flipbook publication
Go back to the left-hand menu, click the HTML settings and a new section will open. Paste the copied code snippet in the "PASTE YOUR CODE" section. This should make your publication show up in the new website section.
4.

Modify your digital publication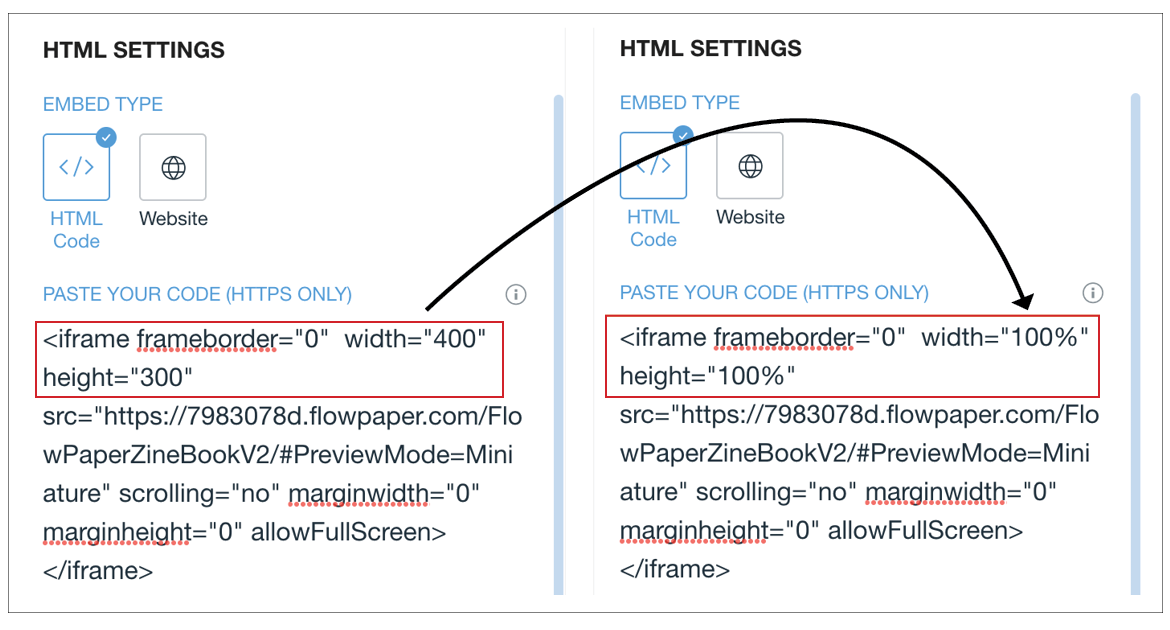 To make sure you get the right proportions go back to the HTML settings and the code snippet. Change the width to 100% and the height to 100%.
Now you can continue using WIX's own editing tools to edit how the flipbook is displayed on the page.